In einem fast einstündigen Video zeigt Activision das gesamte "Call of Duty: Infinite Warfare" "Narrative Panel" der San Diego Comic-Con 2016.
Darin erwartet die Zuschauer nicht nur die Diskussionsrunde mit Greg Miller als Moderator, sondern auch noch bislang unveröffentlichte Inhalte der Kampagne von Call of Duty: Infinite Warfare sowie ein Interview mit dem Serienstar Kit Harington.
Während der Diskussion gibt es immer wieder packende Spielszenen zu sehen – ab Minute 27:30 etwa sollten alle Fans besonders genau hinsehen, denn hier zeigt das Video eine Schlüsselszene des Spiels unter Mitwirkung von Brian Bloom, dem Darsteller des Helden Nick Reyes.
Einen virtuellen Rundgang über das Deck des Raumschiffs "Retribution" finden Fans unter diesem Link:
https://www.youtube.com/watch?v=kdkgiQ4PE-I&spfreload=10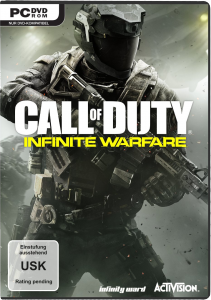 Vorbestellen auf Amazon.de
"Call of Duty: Infinite Warfare" wird am 4. November für PlayStation®4, Xbox One und PC veröffentlicht. Das Spiel hat noch keine Altersfreigabe von der USK erhalten.