Activision hat eine brandneue In-Game Filmsequenz aus "Call of Duty: Infinite Warfare" veröffentlicht.
Im Video mit dem Titel "Long Live the Captain" wird Lt. Reyes nach den verheerenden SetDef Attacken auf die SATO Streitkräfte plötzlich zum Captain der UNSA Retribution befördert – sein Vorgesetzter wurde bei den Angriffen getötet und nun ist Reyes der ranghöchste Offizier an Bord.
Jeder Fan, der eine Edition von Call of Duty®: Infinite Warfare vorbestellt, erhält zudem die Terminal Bonus Map.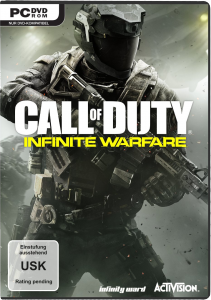 Vorbestellen auf Amazon.de
"Call of Duty: Infinite Warfare" wird am 4. November für PlayStation®4, Xbox One und PC veröffentlicht. Das Spiel hat noch keine Altersfreigabe von der USK erhalten.